My Life and Times
Raising and Command of 4th Battalion, 3rd Gorkha Rifles
By Lt. Col. Duleep Sinh
Part 2 : Shikari's Code of Conduct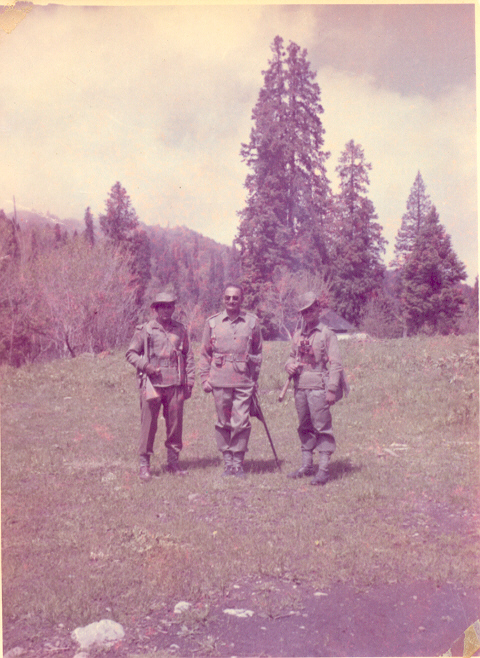 Training started in earnest but it was not all work and no play. It was the season when the Forest Department allotted blocks for shooting and as I was very keen to shoot a tiger, I along with all officers applied for blocks. In the draw two blocks were allotted, one to me and another to one of the officers. I then applied to HQ UP Area to accord sanction to move the Battalion to the allotted blocks to carry out jungle warfare training, which was promptly given. I have to admit that jungle warfare training was partly an excuse and our entire effort was devoted to Shikar (Hunting). I called the Deputy Forest Officer (DFO) and took him in to confidence and assured him that the shikar would be strictly controlled and there would be no slaughter of animals. He said that he had no objection to the killing of wild boar as they were considered vermin. So I then organized parties of 5 to 10 boys to go out and shoot wild boar but restricted them to shoot Chital, which were in plenty, to only one or two for meat purposes.
I then concentrated on my main aim, which was to shoot a tiger. For this I invited Billy, Maharaj Kumar Indrajit Sinh, my cousin, an acclaimed shikari (hunter), who had a farm close by, to come and stay with me and help me get a tiger. Billy and I would drive out the whole night roaming the forest roads in the hope of seeing a tiger but we could not find one. Billy then decided to get an elephant from the Forest Department and do a ghoom (search) to locate a tiger. During one such ghoom we did locate a tiger in its lair and Billy decided to have a beat to flush him out. I got the Battalion to act as beaters with Billy's shikari guiding them. Billy decided that as the beat drew near, the tiger would come out and take a small nullah (stream of water) to go into another patch of thick forest and he positioned me on a small stunted tree over looking the nullah with the view that as the tiger came along it I could take a shot and kill him. I told Billy that my position on the stunted tree was most insecure and was within easy reach of the tiger. However, Billy told me not to worry as he would be behind me and would cover me. The beat started and as it drew near the intensity of the cacophony from the beaters increased, which indicated that the tiger had been flushed. I got the rifle ready to take the shot. Within the next few minutes I saw the tiger coming along the nullah but he was head on and a difficult target. I waited till the bend in the nullah would give me a broad side shot. Just then the tiger looked up and saw me and took a leap to make for the forest. I took a shot and the tiger staggered but kept going and disappeared into the forest. I was not sure whether I had hit him but Billy shouted from behind, "Well done, you have got him!" As Billy came up to where I was sitting I got down too. Billy went up to the place where the tiger had disappeared and examined the undergrowth and shrubs and found blood on them, which confirmed that the tiger had been hit. He told me to start the follow up, reminding me of the shikari's code of conduct, which lays down that it is the bounden duty of who ever wounds an animal to follow it and kill it to put it out of its misery. I was aghast at his suggestion and protested that I had never done this before and had no idea how to go about it and suggested that we wait till the morning, get an elephant from the Forest Department and then continue the search. He would not hear about it saying that it was unacceptable to make the tiger suffer all night and he would be with me to help and guide. So, with Billy by my side and directing me, we kept following the blood trail till the light faded and we had to call off the search. Billy contacted the DFO, whom he knew very well. He sent an elephant on which we searched the area for three days but could not find the tiger. As my permit came to an end we reluctantly gave up the search and returned to Dehra Dun.
Billy told me later that the DFO had informed him that the next person who came to the block, after hearing the story of my failed attempt, sat up with a live bait at the place from where the tiger was flushed and had barely settled down, when in broad daylight, the emaciated hungry tiger came for the kill and he shot him dead. Although I had wounded the tiger first and could have laid claim to it but because I had given up the search he went to the person who later shot him.
We returned to Dehra Dun and got immersed with completing the training. One frightfully cold night Shanta and I were sitting in our drawing room after dinner in front of a huge log fire with Sushma, Shanta's sister, lying in front of it and Jangoo, her son, playing around, when Claude Nambiar walked in with an American whom he introduced as Lt Col Bob Trotti, Assistant Military Attaché at the American Embassy in New Delhi. Having been allotted a shooting block he was here hoping to shoot a tiger for which Claude had organized a beat. He asked me to help him in case he needed any assistance. They had a drink and left. A day or so later Bob drove into my house and told me that a tiger was flushed in the beat and he had wounded him. The tiger had mauled one of the beaters and he had had to fork out quite a large amount to hush up the matter. He eventually did manage to shoot the tiger and I still have photos of his home showing Shanta and I dancing in front of the wall mounted tiger skin and head.