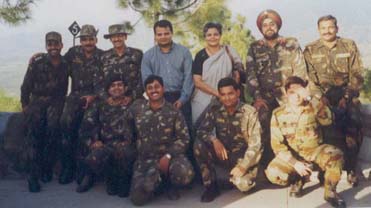 Lunch at the Unit Mess
Dussera Celebrations
(from L to R)(Standing) Capt. M.V. Biradar Major Neeraj Sharma, Major Jai Chanda, Sonam Kapadia, Geeta Kapadia, Col. P. P. Singh, Major Murthy, (Sitting) Major Abhay Sinh, Major Anil Yadav, Capt. Raman, Capt. Mridul Verma
The visit of my mother and I to participate in the Dussara festivities of the battalion started on September 30, 2003. We landed at Jammu and were met by Abhay from the battalion who would also be our liaison during the course of the visit.
The Rajouri town around a 6 hour drive from Jammu across quite hilly roads. In spite of the ever present terrorist threat, we were traveling in army vehicles and without any stealth or hiding. This was a superb display of the army of their complete control and faith in their abilities to provide continued protection to all civilians in the area and dominate the area in spite of the continued terrorism. On the way to Rajouri, we passed Akhnoor cantonment area where just a few months ago there was a terrorist attack on the families staying there (yet another example of the terrorists attacking innocent civilians, ladies and children). It was peaceful when we were there but seeing the place that had become so familiar on our television screen was a chilling experience.
We reached Rajouri in the evening and were warmly received by the GOC. That evening, we participated in the Raising day celebrations of the Army Nursing Corp at the nearby Hospital.