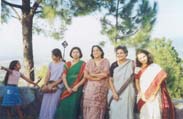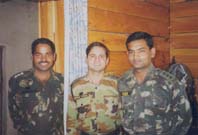 Straight after reaching the unit we were taken for the lunch at their mess, all the family of officers of unit which was staying away from them since the unit was in an active duty area were present at the lunch, and would be joining us for the Dussera celebrations.
The lunch was a well organised affair with Major Mridul in full charge of the bar. We were meeting the unit after 2 years and there had been many changes in the palton. Many officers whom we had met as Lieutenants were now promoted or awaiting promotion the next day. There were new officers who had joined and amongst the new joinees was the elusive Maj. Jaideep Chanda who had tirelessly worked for instituting the trophy in Lt. Nawang's memory at the IMA (Trophies remembering Lt. Nawang Kapadia).
We exchanged notes with the officers on all that had been happening in the unit. And boy lots had been happening with them! Their previous Counter Insurgency Tenor was very active and they had many encounters with terrorists and killed quite a few (Bravo!!). Two officers were injured while engaged in a heroic encounter with the terrorists, finally both of the terrorists were killed and thankfully the officers have recovered and are back on full duty.