11TH NOVEMBER, 2006
(Sixth Anniversary of Nawang's Supreme Sacrifice)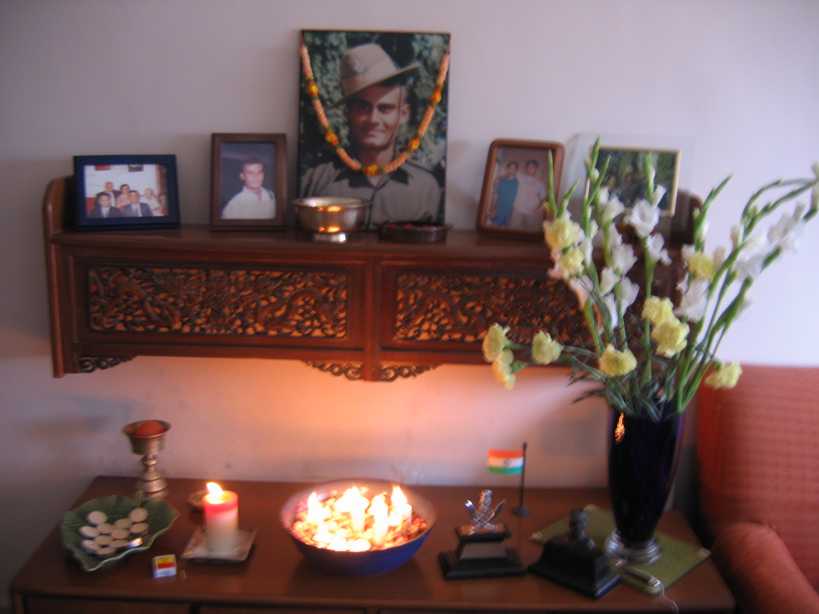 They say a person lives as long as there is someone to remember him. It cannot be more apt than for Nawang. Each and every day he is remembered and he is missed. 6 years have passed and I don't know where that time has flown. There has been so much that has happened in those years but time has stood still for Nawang. My wife has never met him but feels his presence. She thinks of him often and understands the meaning of his sacrifice. Mrinal, in whom I see the reflection of Nawang, is now is the US, studying to cure some of the toughest diseases facing humanity. Sohail & Arif are settled and busy with their own lives. New friends that I meet have difficulty in expressing their feelings when they know about Nawang. Life does go on. The wheel of time is unrelenting in its pace.
There continue to be more tragedies and soldiers continue to protect us against the terrorists. Major Nayyar, Major Acharya Major Navneet Vats the list of names keeps getting longer. The terrorists continue to gain strength. Attacks on the Indian Parliament, Akshardham, the Indian Institute of Sciences all cry out for revenge. They cry for strong national security and a nation that will respond to each attack with renewed vigor on the perpetrators. A nation that will respond in the strongest terms to each attack on its sovereignty and its way of life. A nation that will not bend before the will of terror seekers.
Amongst these dark broodings, there are some remarkable stories stories of valour like that of Abhay Sinh and PP Singh who pursued fleeing terrorists to make them answer of their deeds without care of personal safety. Beyond the battlefield, valour shows itself in Major Gopal Mitra, who after having lost his eyesight in a terrorist bomb blast, went on to stand no 1 in his post graduation, win a scholarship at the London School of Economics and come back to serve the country. The valour of Supriya Nayyar, Jayathri Acharya and Shivani Vats, each facing life squarely in spite of the terrible tragedies in their lives. Living life with fullness and without bitterness.
On this anniversary, we celebrate all forms of bravery. Sometime bravery comes in facing the bullet and sometimes bravely comes when you survive the bullet.