War & Peace – film by Anand Patwardhan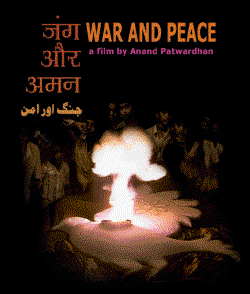 Filmed over three tumultuous years in India, Pakistan, Japan and the USA War and Peace is a documentary journey of peace activism in the face of global militarism and war. Triggered by macabre scenes of jubilation that greeted nuclear testing in the Indian sub-continent, the film is framed by the murder of Mahatma Gandhi in 1948. Lt. Nawang's sacrifice features prominently in the film and his story is captured beautifully.
Moving on to examine the costs being extracted from citizens in the name of national security, from the plight of residents living near the nuclear test site to the horrendous effects of uranium mining on local indigenous populations, it becomes abundantly clear that contrary to a myth first created by the U.S.A, there is no such thing as the "peaceful Atom".
War and Peace slips seamlessly from a description of home made jingoism to focus on how an aggressive United States has become a role model, its doctrine of "Might is Right" only too well-absorbed by aspiring elites of the developing world. As we enter the 21st century, war has become perennial, enemies are re-invented and economies are inextricably tied to the production and sale of weapons. In the moral wastelands of the world memories of Gandhi seem like a mirage that never was, created by our thirst for peace and our very distance from it.
Anand Patwardhan has been making politically charged documentaries for nearly three decades. Despite winning numerous national and international awards his films are often suppressed by the ruling Indian elite, tackling as they do subjects like street dwellers (Bombay our City, 1985), religious fundamentalism (In the Name of God, 1992), the connection between machismo and sectarian violence (Father, Son and Holy War, 1995) and the plight of those displaced in the name of "development" (A Narmada Diary, 1995).
The film has won numerous awards amongst these
Grand Prize, Earth Vision Festival,
Tokyo International Critics' Award (FIPRESCI), Sydney Film Festival
Best Film/Video, Mumbai International Film Festival
International Jury Prize, Mumbai International Film Festival
Grand Prize, Indian Documentary Producers' Association
Best Documentary, International Video Festival,
Kerala Best Documentary, Karachi International Film Festival
Best Non-fiction, National Film Awards, India
Reviews
"The film itself is a tour de force, beautifully shot and often darkly funny and much more riveting than the dry subject matter might suggest."
Duncan Campbell – The Guardian, UK
"War and Peace" has a riveting intelligence all its own and earns its epic title
Elvis Mitchell – The New York Times
"We should listen to our voices of dissent for our own sake and for the sake of our children and their children. War and Peace is that voice's most eloquent expression. Which is why it should be seen by everyone, everywhere."
Anil Dharker – The Times of India
"The atom bomb has come to India with another American tradition – the curbing of works that seek to expose its dangers. "War and Peace" has won praise and prizes at film festivals around the world, including Bombay's, but it is effectively banned in its home country. "
A.S. Hamrah – The Boston Globe
"Narrated in quiet yet passionate terms…of immense interest and importance."
David Stratton – Variety
"Patwardhan is as unsparing in his criticism of the aggressiveness of the American military and nuclear machine as he is of the nuclear pretensions of India and Pakistan…and in his understanding of the sexual politics of resurgent Hindu communalism, Patwardhan remains India's most astute and daring documentary filmmaker and one of the country's most sensitive commentators."
Vinay Lal – Manas
"This film by India's leading documentary filmmaker is so important that one could justify its requirement as part of the education of all high school students and undergraduates. The power of the film derives from its brilliant cinematography and narration, its juxtaposition of points of view and its total honesty. Patwardhan never preaches, he simply shows things the way they are and lets his audience react."
Blair B. Kling – University of Illinois