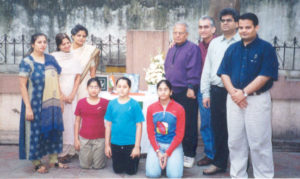 Kapadias with Nawang
Standing L to R Kanan, Swati Geeta, Harish, Sanjay, Raju, Sonam
Sitting L to R Radha, Priya, Dhara
15th December, 2001 was Nawang's 26th birthday. Residents of our building, Vijay Apartment and several morning walkers on our road, Carmichael Road, suggested that we should plant a tree in his memory inside our building to commemorate this day. One tree has already been planted, that of Gulmahor a  flowering tree and it is growing tall everyday.
Our energetic secretary, Mr. Umesh C. Grover and Mr. Shailesh Jhaveri, our neighbors from the 6th floor, organised a very simple but touching event in the morning at 7 o'clock of 15th December. About 60 persons from our building and from morning-walk-companions gathered in the compound.
The maternal grandmother of Nawang (Geeta's mother), Mrs. Mangala Wagle planted a tree of Son-Champa  which bears golden flowers. Mr. Dilip Patel, Chairman of our Residents Association said a few words and Mr. Ram Keswani, a senior member from the morning-walkers paid tributes. We the family narrated some events from the past year what we had done for the memory of Nawang.
It was in the same compound that Nawang had played plenty of cricket and various games when he was young. The tree is near the gate and a tall electric pole. We all remembered that as a young child, Nawang used to climb up this pole as he returned from school and our servant, Vishram would be urging him to come down safely. Many such happy incidences of Nawang in this building and on this road were recalled that morning. Both the trees are now growing well and would remind everybody of Nawang.