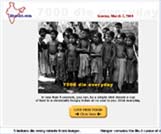 This site has been set up by Vikas Sutaria a close friend of Nawang. Nawang and Vikas studied together in school and have been very close friends since then.
The inspiration for the web-site in Vikas's words is :
"After having spent many hours over many years in deep debate and discussions, Nawang and I had our dreams. All through, one thing that bound us together was an urge to "make a difference"
The objective of this site is to provide, using the Internet, staple food to chronically hungry Indians so as to enable them to survive, learn and work.
Launch of Bhookh com.jpg (297803 bytes)The site was launched on December 15, 2003 which is the 28th Birthday of Lt. Nawang Kapadia. The site was launched at the home of Lt. Kapadia in the presence of his family. Vikas and Dhananjay, who designed and maintains the site, launched the site with the first click.