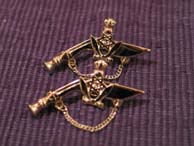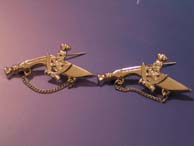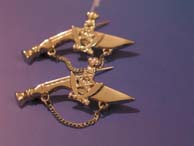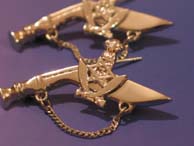 Significance of the Badge
We have made a badge to commemorate the memory of Lt. Nawang, The badge represents the valour, courage and bravery of the Gorkha soldiers. It represents the memory of Nawang and all the fellow soldiers who have made the supreme sacrifice defending the honour and welfare of India.
The Badge consists of a Khukri, the feared curved dagger carried by the Gorkha solider
On the Khukri, is the emblem of the 4/3 Gorkha Rifles more about the 3 Gorkha Rifles ( Lt. Nawang was an officer with the 4/3 Gorkha Rifles).
Dimensions of the Badge are :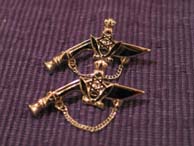 Height : 2.5 cm
Width : 5 cm
Weight : 15 gm
Get the "Khukri of Honour Badge"
You can get this badge by writing to me, with your name, address, whether you knew Lt. Nawang, (I would really appreciate, if you would share your memory of Nawang with us). I will post you the badge.
Please wear the badge as often as possible and tell people who ask you, that it stands for the memory of Nawang and the soldiers who are defending India against on-going Pakistan supported terrorism in Kashmir.
You can display the badge on your notice board or a place which you would consider appropriate for the symbol of this caliber.
Please write to me for your badge at at khukri@nawang.com or You can send inquiry by fill the form.
Wearing the Badge
The badge should be worn on any item of clothing where it is prominently visible and is displayed with respect. The tip of the Khukri should be pointing upwards, as that represents the willingness of the soldier to defend the honour of India.
The badge can be displayed on the notice board or on any item as long as it is worn with honour. Remember what the badge stands for an wear is accordingly.