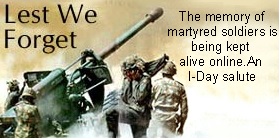 Nidhi Taparia Rathi
Lt Nawang Kapadia,
Captain Vijyant Thapar
Captain R Subramaniam
Captain Saurabh Kalia…
…Just a few of those who lost their lives in the war against Pakistani terrorism. For the army, they were gallant soldiers. For families, loved ones whose memories live on. Lest we forget, their deeds in battle are immortalised online.
Captain Vijyant Thapar's Web site is a shrine built by his brother and family. It includes pictures, and details on how he lost his life and the ceremony where his grandmother received the Vir Chakra given to him posthumously. Among other poignant images are the last few snaps shot from his camera, the description of their last meal by compatriot Major Sandeep Bajaj and a vivid account of the battle at Tooling where he lost his life.
Especially moving is the gif of his last letter home, in which he says, "If I become a human again, I'll join the army and fight for the nation." Another note written a few minutes before his death says, "I am alive till now. Can't say till the next attack. Bodies around me. Lost an officer, he might get PVC (Param Vir Chakra) Got used to the shelling… "
If Thapar's site is an emotional response by his family, Lt Nawang Kapadia's is updated every two months and is chockfull of pictures and information on his experiences with people and his father's mountaineering expeditions done in his memory. Nawang died in October 2000 in an encounter with terrorists when they were on a search and destroy mission in the forest of Rajwar in Kupwara.
For ICICI professional Sonam Kapadia, putting up a site was his way of coming to terms with his young brother's death: "My mother resorted to crying. My father channelised his sorrow in ten to fifteen mountaineering expeditions. The site helped us accept that our lives have changed and we can do nothing to bring Nawang back… Except tell soldiers who are fighting on the border that they are not alone."
For Sonam, the site is a personal mission to keep Nawang's memory alive. With more than 31,000 page views in the last two years and over a few hundred mails, his mission has been successful. He says, "We have a tendency to forget our heroes. It is our responsibility to change that. If we, who are educated and are the top end of society don't take the lead, then we have no right to enjoy what's best in our society. The site is central to our effort to make this change. It records events taking place in memory of Nawang and is integral to any campaign we launch for this purpose. We're in the process of adding a section on the expedition to Siachen in his memory."
Harish, his father, says the site was especially helpful when Nawang's classmates, friends and fellow army men found out about his death: "People didn't know how to express their grief. By sharing incidents about Nawang through my articles on the site and exchanging email, I've actually managed to console them and ourselves."
The Kapadias have begun a movement called the Badge of Honour to commemorate the memory of Lt Nawang. The badge represents the valour, courage and bravery of the Gorkha soldiers and the memory of those who made the supreme sacrifice to defend the country. It features a Khukri, the feared curved dagger carried by the Gorkha solider. About 1,000 badges have been posted all over the world to people who asked for it online.
Talking about his own experience in London, Sonam says, "The love that the British have for the Gorkhas is amazing. In the last two months, I've been stopped on the tube, on the road and pretty much anywhere and asked about the Khukri badge of honour!"
The response has been both positive and negative. Sonam has had inquiries for donations from resident Indians and NRIs, and directed them to the Army Woman's Welfare association. He's also received email from diverse age groups: From a 80-year-old who fought in the Second World War to a 18-year-old applying to the Indian army. There have been mails from soldiers in the US Special Forces, the Belgium Special Forces and the UK Gurkha regiment.
For instance, an email from Graham Jackson in the UK states, "I did not know Lt Nawang. But judging by the story he seems a top quality bloke. I too am going to join the army. The British Army as part of the Royal Gurkha Rifles, as an officer. And if you want, I could plant a tree in the UK as a mark of respect to the memory of these remarkable soldiers."
Sometimes he gets abusive messages from Pakistani and terrorist supporters: "I'm seriously considering getting into an arrangement with the army so that they and the police can trace the senders."
Captain Saurabh Kalia who was tortured by Pakistani soldiers also has a Web page dedicated to him. Others find mention on the Indian Army site, Martyrs of Kargil and Ikashmir.
What have these online remembrances achieved? Harish Kapadia sums it up: "Two years on, the memory of my son's sacrifice has not dimmed. The site, the expedition and the badge of honour are creating more awareness. Concerned citizens within the country can do more; they just need to be reminded of the sacrifice that these Kargil martyrs made for their security! This is my way of not letting them forget…"