Dr. Mrinal Patnaik is a very close friend of Lt. Nawang and a part of our family. He has grown up with us and holds a strong emotional bond with us.
By Mrinal M Patnaik, M.D
No Man has ever risen to the real stature of spiritual manhood until he has found that it is finer to serve some body else, than it is to serve himself
— T Woodrow Wilson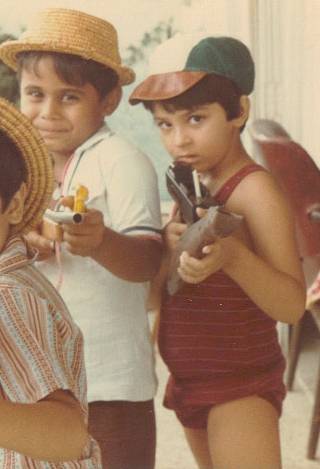 Mrinal (R) and Nawang playing together
Commitment is a trait that stands tall in the definition of a mans personality and in the foundation of his character. It is based on the presence of strong morals, ethics, values and above all an intrinsic conviction to carry out what is said or promised. Commitment is what defines the fine line that separates the boys from the men. It is the elixir that charges human beings with the ability to endure tremendous difficulties and obstacles in order to keep their word and stand up to their goals and promises. Commitment was what my dear friend Lt. Nawang Kapadia was but a personification of.
Nawang and me were literally born and brought up together. The hustle and chaos of the city of Mumbai served as the perfect backdrop for our up bringing and the nurturing of our thoughts and ideologies. My earliest memories of Nawang date back to when we were six or seven years old. We had just bought our first packet of toy soldiers and were fascinated by them. Since then our obsession for the military grew. It was almost a personal rivalry between us. Each would try and out shine the other forcing our parents to buy more such toys. Our armament steadily grew and now included tanks, amphibian vessels, aircraft, missiles and even helicopters. It was the infantry that always impressed him. Being the son of a sailor, my father was able to get me sophisticated miniature aircrafts and tanks from abroad, but this never perturbed Nawang. He would still outshine me in mock battles, by a superior and strategic arrangement of his infantrymen. He had an uncanny battle sense about him. His placement of troops, creation of supply routes, back up plans and above all ability to camouflage soldiers, ensured that I always landed up on the loosing side.
As we grew older, our army routines grew more and more complicated and exhausting. As I was always on the loosing side disillusionment slowly crept in and in evitably manifested in resentment. In order to placate me, Nawang would loose once in a while and that faint glimmer of hope would see me through another few months. Finally he realized that this was not going to work, so he introduced me to another game called strategy. This was a board game, that tested ones ability to lay mines and destroy the enemy without loosing too many of ones own men. I always have taken pride in my self on being a good student. I was about to enter in to the science field in college and had plans of becoming a doctor. I felt that finally my day of reckoning had arrived. A board game similar to chess, no way Nawang can beat me at this. To my utter surprise, disappointment and resentment there was no relief in store for me. Nawang turned out to be a master planner, a leader and a supreme visionary. His ability to lay and diffuse mines some times made me think whether this fellow was an espionage agent trained with the KGB.
As a young man, the virtue that impressed me most about Nawang was his sense of commitment. He strongly believed that a word once given had to be kept, irrespective of circumstances. This was quite in contrast to what I believed and received a lot of flack from him for this. I used to try and take the easy way out when difficult circumstances propped up, but Nawang would stand tall. He had the ability to be patient and tolerate a lot of suffering, but would ensure that his head is always held high. All his friends knew that in times of trouble, there would be one man, standing besides them, unflinchingly and ever so selflessly and that was Nawang. I remember, I was learning how to drive and was really bad at it. No one would give me his or her car to practice on, but Nawang would come and ensure that he would guide me in his own patient way.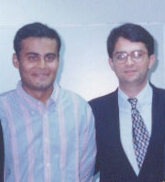 Mrinal (R) and Nawang together at Mrinal's Graduation
He stood by me like a rock, solid as ever, through all the trials and tribulations of medical school life. At the time I joined the Grant Medical College and the Sir J J Group of Hospitals, my parents had to leave India as the company gave them a foreign assignment. I had to move into the boys' hostel, which was famous for its intense sessions of ragging. I remember Nawang ensuring that he came to visit me ever so often. He had a huge muscular and bulky frame and was intimidating to say the least. He would walk with me, as if to send a message to the seniors that this guy is not to be messed with.
He understood me extremely well and we had a great time enjoying common passions. To name a few the things that interested us the most, were the Indian army, cricket, philately, current affairs, field hockey and food.
The Sir J.J Hospital is located very close to the Mohamed Ali road, a culinary delight. Every single street and by lane is studded with numerous small restaurants and sweet shops, each having its own identity and taste. This became our favorite pastime. Almost every evening he would drive down and we would go and try different moghlai foods and of course the aflatoon, Nawangs all time favorite.
The strongest test of his commitment and determination came when it was time for him to get commissioned into the armed forces, through the Officers training academy in Chennai. I remember him calling me from there telling me that in his medical check up he was found to be nearly eleven kilos overweight. He had to loose this weight in less than a month's time in order to join. This event transformed this food lover over night. Gone were all the ice creams and chicken biryanis. He would eat boiled vegetables and soup and run nearly five rounds of the race course (11 km totally). He would even come home and wrap himself in blankets in an attempt to dehydrate him and possibly burn body fat. The tenacity, endurance and deadly perseverance finally paid off. He shed all that weight and was accepted as a gentle man cadet into the hallowed portals of the Officers Training Academy at Saint Thomas's Mount, Chennai.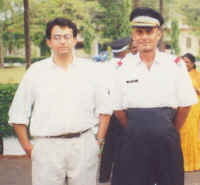 Mrinal (L) and Nawang at the Passing Out Parade
The Officers Training Academy marked a new chapter in Nawangs life. He sustained high levels of physical endurance and became supremely fit. Like all army officers he was taught the finer nuances of behavior and etiquette. He would write one letter a week to all his friends, near and far. Every single one of us would marvel at this mans capacity to write and keep in touch. It was a proud moment in Chennai, when his family and me went to witness his passing out parade. Here was my child hood friend dressed in army attire carrying a rifle and marching to the glorious tunes of the military band. It was on that day that all the newly commissioned officers were to be assigned their postings. Nawang had always wanted to join the infantry. His father, Harish Kapadia, a world-renowned mountaineer had taken Nawang with him on numerous expeditions to the Himalayas. The local people, who dwelled in the foothills of this great mountain range, fascinated Nawang. These areas have traditionally provided excellent drainage for the Indian armed forces. Highly decorated battalions like the Gorkha rifles, Garwhal rifles, the Dogras, Assam rifles (paramilitary force), J&K LI, J&K Rifles and the Ladakh scouts to name a few, have their roots firmly entrenched in these regions. Nawangs wish was to always join one of these battalions. A year before he was commissioned into the army, he had visited with his father, the erstwhile princely state of Rajpipada, in Gujarat. Here he met General Randhir Singh, an officer from the 4 th battalion of the third Gorkha rifles. Nawang was so impressed with this man that at that moment of time he decided that he had to try and join his battalion. When the placements were being announced I could see the anxiety written all over his face. He stood their stoically to open his posting order and his joy knew no bounds when he read the words 4/3 GR.
The piping ceremony was to be held soon. Nawangs Gorkha ceremonial attire hadn't arrived as of yet. There was a small battalion of the highly decorated 11 Gorkha rifles posted at the OTA in Chennai at that time. They had just returned after fighting valiantly in the Kargil sector (Captain Manoj Pandey, PVC of the bravest of the brave). Nawang went up to one of the jawans and requested him for his cap and khukri (sword). What followed was a half an hour lecture on the honor and prestige of a Gorkha soldier's attire. I could see the gleam in Nawangs eyes, the pride with which he ardently listened to every single word spoken by the soldier. I could make out that this was a defining moment in this mans life. He was born to belong to the bravest of the brave.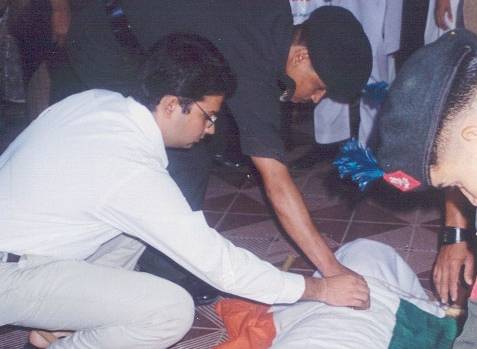 Mrinal Paying respects to Nawang
Nawang was commissioned into the 4 Th battalion of the 3 rd Gorkha rifles. He was sent to the regimental training center in Varanasi and then was posted in Kupwara, in Kashmir. It was here that Lt. Nawang Kapadia, in the highest traditions of the Indian army laid down his life during counter insurgency operations against the Kashmiri separist forces. He went to save the life of his wounded Hawaldar Chitra Bahadur and was shot, later on succumbing to his injuries. It was a huge loss to the family and also to the nation. People like Nawang are one in a million. Although today, physically he doesn't stand with us, his memories are eternally entrenched in to our minds. That supremely fit physique, coupled with a gentle smile remains a fond memory. However the lesson that he taught to us in his own endearing way was that we must value Commitment above all else.
As we immersed his ashes in the Pauna Lake, in the Sahyadri hill ranges of Maharashtra, every one present echoed the famous war cry of the Gorkha soldiers "Kayar Hunu Bhanda Marnu Ramro – It is better to die in valor than live like a coward"
Jai Hind