I was with friends at Kalimpong. We had finished a lovely trek to Sandakhpu and were enjoying a quiet day. Others left for home, while I travelled onwards to Darjeeling. After a two-day rest, I was to start another trek. As always, I stayed with my dear friend Dorjee Lhatoo. It was as we were having a pleasant conversation over tomba, that my whole world came crashing down.
My older son Sonam was on the phone, asking me about my trek. It was very surprising to have received a call from him during a trek, but the impending news was something I had never envisioned.
"Baba, Nawang was killed in action at Kupwara, today at 11 am", Sonam said as a matter of fact. I was completely numbed and unable to react.
"What are you saying. Are you fooling me?"
"Do you think I will joke on such matter?" he said painfully.
"Put down the phone. I will call you soon", I banged the phone.
Lhatoo was beside me and I relayed the news to him. I can say, that he was the first person with whom I shared this pain. He was also taken aback. I immediately got in touch with Major General Randhir Sinh (Retd), a family friend and retired senior officer from the 4/3 Gorkha Rifles, the battalion that Nawang belonged to.
"Randhirbhai, is this true that Nawang was killed in action?" I said, hoping for a firm NO.
"Yes, Harishbhai, that is the news coming from Kashmir". My world was rapidly slipping away.
He was unaware of the details of the fight. At that point of time, these details hardly mattered. I called Sonam again.
"Look Sonam, first just keep one person ALL the time with Geeta, she has to be totally cared for and guarded. She is sensitive and a mother. She may not be able to take this easily".
By this time Sitadidi, (Mrs Nawang Gombu), who lived nearby, was there. She embraced me and simply remarked: Harish Bhai ye kya hua ? She was crying though I was numb.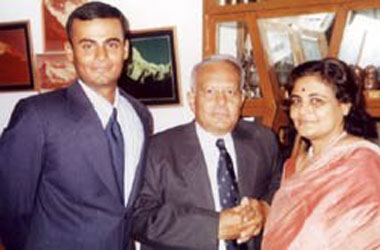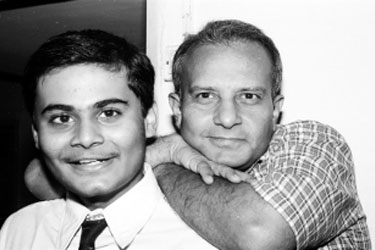 A few quick phone calls, and I decided to proceed to Kolkata from Darjeeling immediately. I had to arrive in Mumbai not later than the following night for the funeral. The last train had departed and I had to make alternate arrangements. Two of my trusted and loyal porter friends were in Darjeeling waiting for the next trek to commence (Harsinh Sr and Jr as we called them). Nawang had grown up with them and so they too were in deep shock. They barely uttered a word as I broke the news to them. Accompanied by Lhatoo, we went to the bazaar to finalize our travel. It was late in the evening and people in the hills generally retire early. Lhatoo instructed his usual taxi driver to be ready for us. He was, but demanded a hefty price. In spite of an angry Lhatoo narrating the seriousness of the travel, he was unwilling to change his stance. We were forced to engage another taxi and Lhatoo never forgave him for his selfishness.
We travelled in silence and reached Siliguri by mid-night. A long journey to cover ahead and no means of transport in sight, I was still hoping to reach Mumbai by noon, just in time to receive Nawang's mortal remains arrive wrapped in the Tri-colour.
We were forced to spend the night there and entered a decent looking hotel. Looking at us, the manager enquired if everything was fine? An ex-army man himself, he instantly jumped to help. He called up a private taxi operator and had him come over immediately. It was unadvisable to travel at night due to bad roads. We waited until 4 am, during which time, Lhatoo and I were talking about Nawang. In fact, just a year prior, Nawang had visited Darjeeling. He stayed with Lhatoo and joined a trek organised by him with Swiss friends. He shared a lot with them and learnt a lot from Lhatoo, a great Sherpa, a historian and a gentle human being. He recalled Nawang's visit and many incidents related to it.
At the break of dawn, we bid farewell to Lhatoo and departed with me in the front, the two Harsinhs and the owner of the car at the back. For the next twelve hours, we drove over miserable roads in stunned silence. My thoughts drifted towards Nawang and wonderful memories of time spent with him. Some of these incidents are still afresh in my mind as though they were played out in the recent years. The younger of the two, he was always a demanding child and always trying to gain an upper hand over his elder brother.
Once while on a drive in the hills outside Mumbai, we encountered badly run-down roads. Each pothole that the car ran into, Nawang would utter "Sorry Baba", to pacify me. On this journey, we happened to see a donkey and I pointed it out to the boys remarking, "Look at that donkey, isn't he graceful and strong?". Nawang who was asleep woke up with a start realising he was missing out on something. Unable to spot the donkey, he started howling incessantly, forcing me to turn back. Unfortunately, we were unable to spot the donkey and had to pacify him with the allure of an ice-cream!
He had innocence of young. Once Sonam was scolded by me after a mischief. After that long dressing down Sonam was sent away to his room to study. As I came out Nawang was standing there, with a serious face waiting to be scolded! He thought that he had missed out something which Sonam had got! Mountaineering equipment was stored in the house in upper lofts. To remove and pack for my trips I had to get a ladder to climb up. Children always obliged to bring a ladder for me. It was a ritual we all enjoyed and I would say how I would climb mountains ever if you do not get this first ladder for me! When he was denied something, Nawang would threaten me, "Ok do not give me, but then remember about that ladder, who will get it for you?" I am supposed to be sacred and give into his black mail, which I did with pleasure.
Every morning, I used to go to the nearby Mumbai Race Course for a walk with the kids accompanying me. It was our routine to walk, run, exercise and completely expend ourselves. The kids would always be on the lookout for innovative ideas to outsmart me from a long run. Walking around the race course, they would run away in the opposite direction promising to meet me halfway. I knew that only when I was visible to them that they would run that distance to assure me that they were doing so all along. At times, I would get my friends to spy on them for me, but the clever children would con them and disappear into the middle of the grounds.
We owned an old rickety Fiat car, on which Nawang learnt to drive. He abhorred the car but I was unwilling to replace it with a new one. This car was once stolen and, unable to locate it, we registered a complaint with the police. A few days later, we were informed that the car had been located a few kilometres away, abandoned. We were informed that local miscreants usually steal old cars to ferry illegal goods and then abandon them. The car was returned to us on the assurance that we would produce it as evidence whenever the thief was caught.
A week later, the car was found to be missing again and we were worried at the recurrence of this theft. Nawang immediately remarked, "The car does not have petrol and not even a properly functioning engine. I do not think anyone will be able to drive this car more than a few kilometres". True to his surmises, we located the car just 20 minutes away from home. We immediately decided to sell off the car. When the buyer tried to register the car, the records indicated that it was stolen property, hence could not be transferred. Luckily for us, since the thief had not been caught, it was declared 'not required for evidence' and sold off. Nawang heaved a sigh of relief.
"Shall we halt here?" the driver woke me up from my thoughts. "This is the only dhaba available en route". It was mid-morning and we had driven about 6 hours without a break. Quietly we all sat down to breakfast. Kolkata was still far, we were not even half way yet. There was no question of reaching the airport till late evening.
Thoughts started again no sooner we were on the move.
Nawang had graduated with a Bachelor of Commerce degree. We owned a family run business dealing in fabrics. The store had been recently renovated and now it was an air-conditioned and well-designed showroom. The store had been established 55 years back in a popular market area and enjoyed an unmatched goodwill . As Sonam chose banking and finance as a career, the responsibility of supporting the business fell on Nawang. He started working at the shop with me and looking after the routine. This being a wholesale business, there was no pressure of work every month. It was only during the peak season that we all remained very busy. Slowly I noticed that Nawang was not in his elements while attending to business. When I came late to shop I could see boredom on his face.
"What is it Nawang? Don't you like to be in the business?"
"This is an air-conditioned jail for me. My mind is just not here", he said frankly. I will never forget these words of his.
I reminisced that throughout my life I had trekked, climbed and travelled alongside running the business. But now, given the fast pace of life, it is not possible to enjoy that much freedom. I realised that I had no right to condemn my son to such a life. Destiny was calling him. In the weeks following our conversation, Nawang declared that he wanted to join the army! An unusual choice for a businessman and a Gujarati! Very few people from our community are in the armed forces. And none in the family business would dream of joining the army. But it was his calling and there was nobody who could stop him.
In a way, it was long overdue. Nawang had joined me on a few treks to different parts of the Himalaya. He was physically strong and enjoyed the outdoors very much. The turning point, I think, was during our visit to the Siachen Glacier in 1996. We had planned a long trek. First to venture into the side valley of Terong and later traverse the full Siachen Glacier. As we emerged from the Terong valley, we were informed that someone high up in the army hierarchy had cancelled our permits. More on this is written elsewhere.
This forced us to come down to the Base Camp of the Siachen Glacier. As I fumed and tried sorting out matters with the higher-ups, Nawang was in the company of some young officers and enjoying himself immensely. Later, we paid a visit to Maj Gen. Randhir Sinh (Retd.), who was the commanding officer at the Glacier. He offered an explanation and expressed his disappointment at this behaviour of the army. He paid special attention to young Nawang and asked him a few things. A party was organized at the army mess to cool us down and, as we left, he shook hands with each of us saying, "I am sorry for what the army has done to you." A brave thing for an army commander to admit.
This event had a major influence on Nawang's mind. In a way, he was introduced to the army at a young age by Lt. Gen. Ramesh V. Kulkarni (Retd.), who was part of the family from Geeta's side. Maj. Gen. Chandan Nugyal (Retd.) also took much interest in Nawang. Thus, there were major forces at play and he was bound to respond.
It was late afternoon by now. The driver was visibly tired. We halted at a small dhaba to allow him some rest. A light lunch and tea was all that I could stomach. Both the Harsinhs had not uttered a word until now. They very slowly asked me what had happened and how Nawangbhai had died. I knew very little and could not tell them much. In silence these companions of almost three decades shared my grief.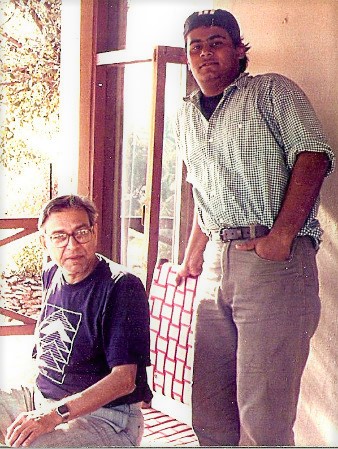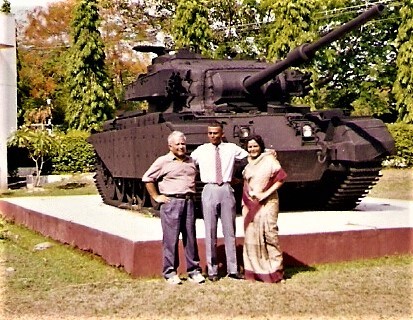 We were now nearing Kolkata. City lights and traffic were now upon us. I recalled some of my journeys with Nawang. We travelled to Pachmarhi, in MP, almost every year. Nawang used to be in his elements there. We trekked and enjoyed nature. He was five years old when we first visited Pachmarhi and I recall him playing for long hours in the sun. Pachmarhi is an army cantonment where the education centre is located. The Army music school too is located here. All of us got to witness the army marches and parades in the morning. It was not unusual to hear an army practice band playing in the distance as we undertook rock climbing in the adjoining hill. This surely must have left impression on the mind of young Nawang.
One of his best friends and companion on trips was Jagdish Nanavati (JCN), almost 40 years older than him! They would have endless conversations and only Nawang had the patience to listen to slow narration of stories by Jagdishbhai and answer his searching questions. It was a wonder to see the age difference between them melt away and how close they grew as friends. Many times, Nawang would be walking with his hand on JCN's shoulders, both teasing each other. What a bond!
Another person Nawang was very fond of was Dr. Vasant N Desai. Today, a grand old man of 97 years, he still talks of Nawang philosophically. On trips to local hills, he has accompanied us many a times. While resting at a temple or en route, one would again see Nawang sitting cross legged and listening to several narrations of Vasanthbhai's life experiences. Vasant bhai had a knack of narrating philosophies and religious tenets in a superb light hearted way cherished by youngsters of all ages. Nawang listened to him, argued and had long discussions. Age did not matter and differences of physical life were forgotten in this meeting of their minds. On Nawang's death, Vasantbhai said "Here I am an useless old man (in his 80s), with nothing to look forward to. And God takes away a youthful Nawang who had his entire life before him". With his wisdom he would try to explain what possibly could not be understood by us.
It was now 8 pm as we entered Kolkata airport. We had driven 16 hours, almost continuously. But in my thoughts, I had travelled more than 25 years of Nawang's life.
As I boarded the plane, I was exhausted and fell asleep. I knew that when I would get up at Mumbai, another journey would begin. That of Nawang's last!