By Jerry Pinto
From Man's World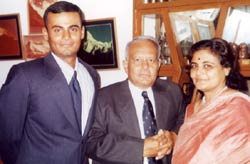 There seem to be several Harish Kapadias at large in the world. The first is the quiet cloth merchant who had a shop and visited it whenever he could. The second is the mountaineer, editor of the Himalayan Journal (one of those indispensable special interest magazines) friend to the likes of Chris Bonnington, author of the masterly Trekking in the Western Sahyadris which everyone who has ever attempted the Western Ghats knows practically by heart. The third is the bereaved father, whose son Lieutentant Nawang Kapadia of the 4th Batallion of the 3rd Gorkha Rifles, died in action against terrorists in Kashmir, two years ago. This one shows up on the website, www.nawang.com which has been put up in honour of the young man who died in an attempt to save his NCO from a terrorist attack.
"Nawang and his men had cleared out a nest of terrorists in Kupwara. The next day, they returned to make sure that the job had been completed. The terrorists had returned and a gun battle followed. Nawang's NCO was caught in the line of fire. He called for covering fire and rushed out to save him. A bullet went through his neck, killing him instantaneously."
It is quiet here on the seventh floor, quiet for a city like Mumbai. It is now sombre. For it is the fourth Harish Kapadia speaking, a man who has been through the hell of a son's death and has come through that dark night of the soul remarkably unscarred by bitterness or resentment.
"There were five terrorists involved in the attack. Three died in that incident but the fourth and fifth escaped. The Gurkhas who have an excellent informal network that supplies them with grassroots information kept tracking Bilal, the one who killed Nawang. The 4th Batallion had taken a peace posting out of Kashmir. When they heard that Bilal was hiding in Gulmarg, they took a posting there, specifically to hunt him down. They did. They later told me that it was the ijjat of the regiment that was at stake."
All this in a dry tone, of someone recounting the facts of the matter.
The facts then. "Nawang was an ordinary boy. He, enjoyed games and sports, and went on treks with us. On one such trek to Kashmir, we met many Army officers including Major General Randhir Singh of the Gorkha Rifles whose father had started the Regiment. Nawang enjoyed talking to them. He liked the look of the uniforms. And his maternal grand-uncle Lieutenant General R V Kulkarni was a huge influence on him too. After college, he joined me in the cloth shop but it was evident that his heart was not in it. After a day of work at the shop, he would be listless. Finally, he came out and told us that he wanted to join the army."
Not too many Gujarati boys want to do that. But then not too many Gujarati boys are on first name terms with Chris Bonnington either.
"He began to work towards the Officer's Training Academy wih complete fixity of purpose. He had to lose eight kilos so he began to jog every day. We would be sitting around eating chicken while he would make do with soup and a slice of toast. On the day before the physicals, he ran with many layers of clothing so that he would sweat out some weight. Then he went to sleep under eight blankets to sweat some more. The day he got into the Academy, I began the process of selling the shop."
Many years ago, I remember teaching Nawang mathematics. Kapadia is not entirely right about him being an ordinary boy. He was different. Of course, almost all my students were different but there were few who could argue that the rise of any religion in this country was linked, not to its intrinsic appeal but to political patronage. Or who would be fierce in their defence of patriotism as a good construct. There was another son, Sonam, who I taught briefly as well.
"Sonam is with a bank. He has just returned from a posting in London. Both my children did not want to have anything to do with the business so I decided to wind it up."
And Nawang worked on towards his dream.
"I remember once I went to visit him in Chennai at the Academy. The entire group had been made to jog 49 km that weekend as some kind of punishment. They had also been grounded so we had to visit him since he couldn't come out and meet us. He asked us to bring 21 Chinese dishes. We thought we were feeding the entire group but he and another classmate cleaned up the lot."
Nawang chose the Infantry, not a popular decision.
"Which meant they gave him the posting of his choice. Not too many officers opt for the Infantry. They take Ordnance or Artillery or softer postings like that. Nawang chose the Gorkha Regiment and was accepted. It was a great honour for him to be accepted into a regiment with such a reputation for bravery."
A posting in Kashmir. A regiment with a reputation for bravery. A recipe for disaster? Did his parents ever worry about the danger that involved?
For a moment the atmosphere lifts as Kapadia smiles. "Well, I've been doing dangerous things all my life. Like climbing mountains."
Then he thinks about it for a moment and adds: "It was what Nawang wanted and we respected that decision. We were proud that he had a dream and that he was following that dream."
The story resumes.
"After Nawang graduated from the Academy, he came home for a short break. Then he went to Varanasi to the Regimental Centre to do the necessary paperwork. Then he went on to Almora which is home to the Regiment. After a fortnight, he was posted to Kupwara in Kashmir. Three months later, on 11 November, 2000, at around 11:30 am, he was dead."
Harish Kapadia was in Darjeeling when he heard the news. He had returned from a trek to the Sing Lila Ridge and was leaving the next day to trek to Guicha La. "One day either way and I would not have heard for a while," he says. He was informed in the evening and travelled all night by road to Kolkata. Then he took the next day's flight to Mumbai in time for his son's funeral.
There's now a khukri badge that you can wear in honour of Nawang. Trees have been planted in England, Poland, Japan, Nepal and India in his name. His father has dedicated all his climbs since then to his memory, including the first ascent of the 7030m-high Mount Padmanabh in the Eastern Karakoram Range, a gruelling climb that was accomplished by The Indian-Japanese East Karakoram Expedition 2002. On the website, there is a page that describes the way things seemed to fall into place without a hitch (the cashing of unused travellers' cheques, the payment of LIC policies) which Kapadia describes as 'Nawang experiences'. This is the bereaved father speaking, wondering whether it was Nawang guiding them.
But this is what you have to respect.That the same website has anti-war articles and pacifist poems.
That Harish Kapadia can tell you the story of his son's death without blaming anyone, not even that old enemy of our happiness, fate. That he can tell you about the death of his son's assassin, without any emotion. Revenge, to him, is not a dish best eaten cold; it is a dish best not tasted. That he can say without a trace of what would be justifiable anger, "It is difficult to interest people in the rest of the country about what is happening in Kashmir."
The quiet room on the seventh floor is no longer sombre. It is quiet again.