Tribute to Lt Nawang Kapadia on the occasion of installing a Memorial Stone at Mahim Nature Park on December 10, 2006 by Jagdish Nanavati
Jagdish Nanavati, or as we call him Jagdish Bhai, is a senior mountaineer and a friend of the family. He and Lt. Nawang have been on many treks together. Jagdish Bhai is the "guru" or teacher of Nawang for his mountaineering. In all their treks they shared the tent. It was an unusual combination of a 18 year old sharing a tent with a 60 year old, but they made it work.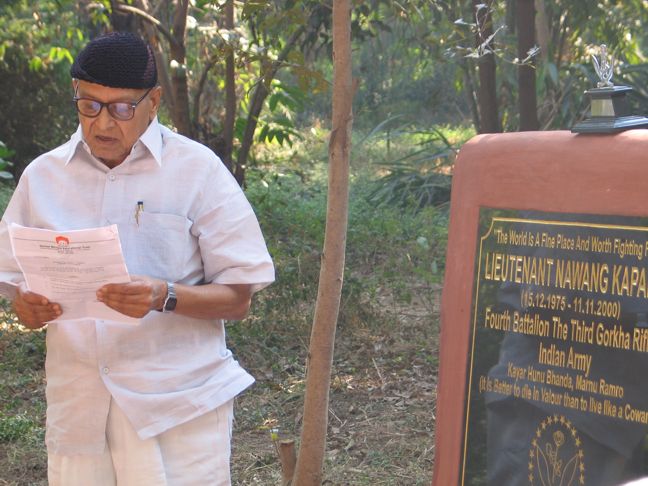 We are gathered here in the memory of our dear family member, who at a young age died in the cause of defending our country. This function is to commemorate him by installing a marker stone in this Mahim Nature Park. He is Lt. Nawang Kapadia. He died on November 11, 2000 in action in Kupwara District of Jammu and Kashmir. Nawang and his Gorkha soldiers were on a search and destroy operation against the terrorist groups. Whilst under attack by the terrorists, Nawang went forward to defend and protect his men, who had gone ahead. In this maneuver, he became exposed and was hit by enemy bullets. He displayed extraordinary courage and high sense of duty while in action. This was his first and the last battle. At that time he was a young lad of only 24 years.
There are many families who have a traditional connection with the armed forces. We hear of such martial traditions in communities such as the Sikhs, Marathas, Gorkhas, Rajputs and so on. However, such a tradition is not found in Gujarati community. So when Nawang chose to join the Army it evoked a sense of surprise to my mind.
I have seen Nawang grow up from his early childhood. We have spent time together in small local outings in Sahyadris as well as longer trips to the Himalaya. He grew up liking the outdoor adventures, which was rubbed into him from his parents. As he grew up his disposition was quiet, though determined in his purpose. Although after his studies, he did spend sometime in business activity, his love for adventure drew him to join the army. This was not an easy process. He was overweight to start with. He had to pass several fitness tests. He underwent Officer's training and qualified to be a Lieutenant in the Army. Very soon after commissioning as an Officer, he was nominated to the 4th Gorkha Battalion of the 3rd Regiment (4/3 GR) and sent to the battle front in Jammu and Kashmir.
Nawang loved to be with nature. It is in fitness that Nawang's commemoration plaque is being installed in the Mahim Nature Park. Many young children will come here and read this commemoration. Some may be inspired to emulate the spirit of Nawang. He will be remembered as one who laid his life in the cause of the country. In the death of Nawang, we have all lost a part of us; more so his parents and his brother. However, we should overcome our sense of sorrow and only remember the ardent spirit displayed by Nawang for his career in the Army and in his final effort in the battle.