(Read the sequel to Summer Moonshine – 'Buzzard Feast)
Main article on the raid is at Blooding of the Phor Thud GR
Lt. Col. A.K. 'Sam' Sharma (May 2003)
Spooky summer moonshine
amidst the pines,
creating phantoms and signs
of the invisible adversary.
The pale yellow moon,
at play with young boys moonlighting in May…
Ninteen Sixty Five
'Broncos' and boys
try and stake a claim
for the paltan's name
to baptism by fire,
with ire and rage.
Silver spring,
uneasy calm,
shattered, all of a sudden,
by crackling commands, and gun fire.
Purple-prose, profanities and oaths
tumble forth,
as young boy soldiers, hit the earth
amidst bullets
and near death.
"Follow me, you louts.
Get up. Lets give them a big clout",
as this is it! "Despite the shit,
and ants in your pants,
make up for the loss of surprise
by frontal attack..
and succeed, or…
get the sack…?
Thank God, you all are up!
At them, lads!"
Carbines ablaze,
grenades and gunshot.
Enemy MMGs in depth blistering the objective
into a pepper-pot
with red hot tracer-shot!
I see a Pak Razaakar lunge
with rifle 'on guard'..
My carbine's jammed..(damn..!);
me ready to plunge
the cold steel
in his gut,
but the faithful buddy
knocks him cold
with his Sten gun's butt!
Chanda's whistle to RV……
I snatch the enemy's weapon
( ..and only success..)
"Let's get back", I yell…
"What the hell..?..
….Where's my buddy?"
Siddhiman bayoneted by Rik Bahadur,
Old Kharke missing, and
the dreaded dawn breaking,
our resolve to stay on
for yet another sortie,
to retrieve the missing,
even though single-handed
and with out weapon or friend,
but ordered to fall back
to 564 post… .
So this is war….!!
Oh! what an ordeal ( and eye-opener)
at nineteen!
Renowned braves go to ground
for good.
Only brazen leadership counts
when the pressure mounts
with devastatingly effective enemy fire;
and professional seasoned soldiers only offer
covering fire;
whilst you charge (and fumble)
Alone!
Shock and disbelief!
Relieved only by the euphoria
brought about
by the General's stout pat
on the CO's back!
" Candidly", he said "a plucky
and gallant action.
The UN informs
that your boys killed ten
and wounded forty!
Well done".
But I wait
For my date
With Kharke———-declared 'missing;
Believed killed in action'—–
Even as of date.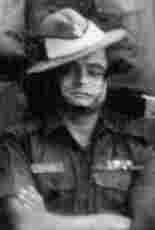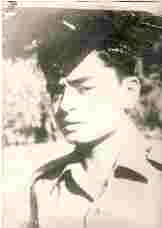 Lt. Col A.K. 'Sam' Sharma
Sam Sharma is 4/3 Gorkha Officers, who was the original Bronco. This poem, as well as Buzzard Feast are based on exploits of the broncos in the 1965 war with Pakistan; actually a raid on a Pakistani post, on the Line of Control. He is a regular visitor to the site and a great supporter.