Lt. Col. A.K. 'Sam' Sharma
This battle ballad is based on an real to life episode when Sam was seving with 2/3 G R ( The Victoria Cross paltan, two VCs in WW I) in Delhi's Red Fort The paltan was on ceremonial duties in the Rashtrapati Bhawan .
This unit is like any other
he thought,
same flaps
same chaos
like in any other;
It was so
Apparently,
only.
Month of May
Heat.
Night & day.
Burning asphalt
And sandstone.
Sentry on post – all alone.
Smart & steady
Apparently?
but giddy
Falls flat on his face yet
ram-rod straight;
Still.
Jeep whizzed by ..
Flurry of drill & arms.
crackling command
'Present arms!'
But late.
Fate.
In righteous anger
Snarled the CO
"How dare you not
Salute?
'Guilty or Not'? was the demand
of the officer in Command
of Second Third.
'Not Guilty spluttered the accused NCO'
'How dare you deny!'
was the cry
of the Tiger
in the Orderly Room.
'Deprived of the Appointment of Lance Naik.'
March him out.
This is bad;
a trifle sad
This boy would have been
A havildar soon.
Interview.
Let me see his point of view
( and clear my conscience )
at least.
Conclusion
'You were not wrong'
I shall make up
by posting you out
as with out a doubt
I definitely have clout
with the Centre Commandant;
to another paltan.
'You will rise again
'Forget it' cut in the lad,
"It is bad,
And may be sad,
But we have out pride."
I'll take this all in my stride,
I want to stay to the very last day
. of my service as a Rifleman
in Second Battalion of the Third Gorkha Rifles;
for this is where I was born
From this is where I'll go"
Fabulous spirit
This paltan is different
Now I know
why
France & Flanders, flowered the two
VCs and earned grandeur,
Italy, the charge at I'll Castello,
8th Army, and the scrap with Afrika Korps;
Pir Kanthi & Uri, begot battle honours and
decorations galore,
and above all fostered
It's matchless spirit.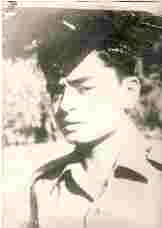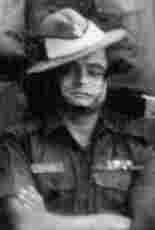 Lt. Col A.K. 'Sam' Sharma
Sam Sharma is 4/3 Gorkha Officers, who was the original Bronco. This poem, as well as Buzzard Feast are based on exploits of the broncos in the 1965 war with Pakistan; actually a raid on a Pakistani post, on the Line of Control. He is a regular visitor to the site and a great supporter.