The day we launched (Thursday July 26, 2001) the "Khukri of Honour Badge" on the web-memorial of Lt. Nawang, the most popular evening news paper in Mumbai "Mid-day" carried an article about the badge.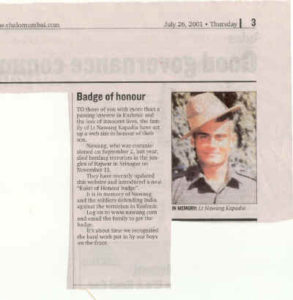 To those of you with more than a passing interest in Kashmir and the loss of innocent lives, the family of Lt. Nawang Kapadia have set up a web-site in honour of their son.
Nawang, who was commissioned on September 2, last year, died battling terrorists in the jungles of Rajwar in Srinagar on November 11.
They have recently updated this website and introduced a neat "Kukri of Honour badge".
It is in the memory of Nawang and the soldiers defending India against terrorism in Kashmir.
Log on to www.nawang.com and e-mail the family to get the badge.
It is about time we recognised the hard work put in by our boys on the front.