My Life and Times
Raising and Command of 4th Battalion, 3rd Gorkha Rifles
By Lt. Col. Duleep Sinh
Part 4 : Vastarvan Twice a Day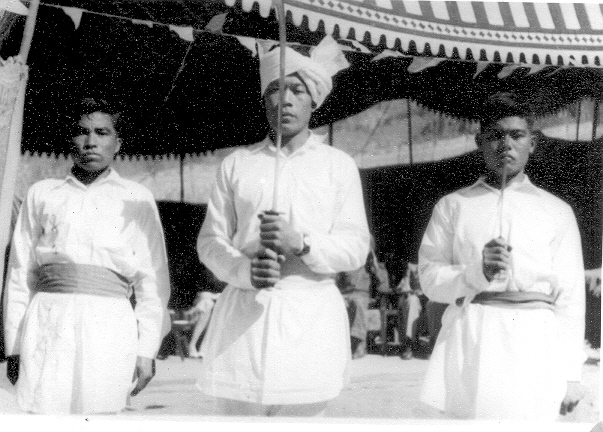 Soon our stay at Gurdaspur came to an end and I received orders to proceed to join 68 Infantry Brigade, which had already moved to J&K. While at Gurdaspur, although we were part of the Brigade, we never saw it as it was at Amritsar under Brig HS (Kim) Yadav and had moved earlier to J&K. In the second week of June, the Battalion left Gurdaspur for J&K, arriving at Laddoo Camp on 18 Jun 63 to join the Brigade. Laddoo camp was located on the towering Vastarvan on top of which was the shooting lodge of the Maharaja of Kashmir, as it was the home of the Chakor. We had barely settled down when our 2nd Battalion passed through on the way to Ladakh and we hosted a barakhana for them. To keep fit, besides doing the normal PT, I decided that all companies will climb Vastarvan daily and twice a week in full Field Service Marching Order. Companies were located on the hill side with their company commanders. On another side, almost half way up, was sited the Officers Mess with my tent just above it and the Brigade Headquarter officers below, some distance away.
Brig Yadav had a habit of just walking into a battalion area without notice. The COs of other battalions used to go rushing down from whatever they were doing to greet him and eventually conducting him to the Officers Mess to give him a sumptuous breakfast. I felt that this was not proper. Of course the brigade commander had a right to visit any battalion any time but the proper procedure was for the BM to inform the Adjutant the time and place of his visit so that the battalion commander could be present to welcome and conduct him. Kim Yadav however, studiously avoided visiting my Battalion for which my officers were most thankful. Probably he remembered that I had saved his skin by tearing up his adverse report when I was MS to Lt Gen Cariappa. Once or twice, however, by sheer force of habit he did walk into a company area where he was met by the company commander. When asked as to where the CO was, he was informed, as instructed, that the CO was out on a recce. After a couple of such visits, the BM rang up the Adjutant and told him that it was customary for the battalion commander to receive the brigade commander whenever he visits the battalion. When the Adjutant informed me about this I rang up the BM and asked him what was the purpose of ringing up the Adjutant and tell him about the Brigade Commander's visit as surely the Brigade Commander did not want the Battalion Commander to hang around at the Battalion's entrance every morning, waiting for him to come, which he may not do for days. I informed him that whenever the Commander desired to visit my Battalion I may be informed of it. It would give me great pleasure to meet and conduct him around. I asked him to kindly stick to the procedures and not to browbeat the Adjutant. I am sure he must have informed the Commander about it as that's the last I heard of it.
I then realised that in all the hurly burly of raising and training we had missed out on a very important aspect. The Battalion so far had no temple, so I commissioned Maj Raghunath Singh to proceed to Jaipur and design and get crafted a murti of MA DURGA together with a temple to house it. Raghu did a great job and on 23 Oct the Battalion temple was established and MA DURGA still presides in all her glory in her Temple in the Battalion.
Kim Yadav was a hard task master and very efficient and ensured we trained very hard to achieve proficiency. I, however, believed that all work and no play makes boys dull. So I sent a couple of youngsters to town to reconnoiter and find a suitable restaurant where we could go occasionally and have a beat up. They, of course, found one quite easily. It had a band, which played lively dance tunes and served good food. We carried our own liquor and so generally everyone had a good time.