Memorial for Lt. Nawang at the Mahim Nature Park
Inscription on the memorial Stone
About Mahim Nature Park
Speech by Jagdish Nanavati
We established a memorial stone at the Mahim Nature Park in Mumbai on December 10, 2006. The following is the account by Sheela Jaywant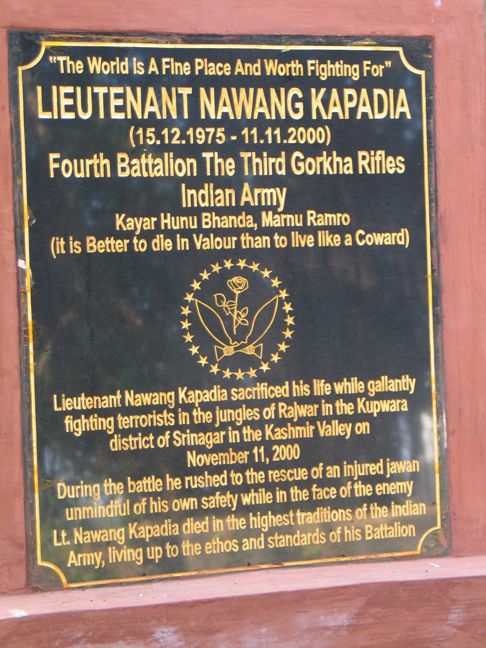 Memorial for Lt. Nawang at the Mahim Nature Park
Inscription on the memorial Stone About Mahim Nature Park Speech by Jagdish Nanavati
We established a memorial stone at the Mahim Nature Park in Mumbai on December 10, 2006. The following is the account by Sheela Jaywant
Memorial Stone at the Mahim Nature Park
When Geeta called to say there was to be a plaque raised in Nawang's memory on Sunday, 10 Dec, '06, I was happy. My husband and I drove to a place I didn't know existed not too far from our home: the Mahim Nature Park near the Dharavi Bus Depot, beside the infamous River Mithi. It's a heavenly little plot full of opulent greenery, well-maintained and mercifully not mauled by picnickers and vagabonds. Tall trees, small shrubs, flowers, creepers, saplings, birds, and (a rarity in Mumbai) the smell of fresh air….you get the picture. Avninash Kuble, the Director of the Nature Park, seems to be a man with direction. Sonam tells me he took a lead is setting these plaques. Near Nawang's memorial, there was one set up in 2003 for Major Rajesh Nayyar.
The stone with the inscription honouring Nawang and the organization was got done thanks to Sanjay. Sonam's wife, Charu, had got some really pretty, fancy, floral candles that added to the ambience. The air was sultry, considering it was 'winter' in Mumbai, and the sun warm. So we all huddled in the shade until Jagdish Nanavati gave the speech. I had to go up on my toes to pay attention to his kind words. (I'm one of those that needs to 'see' what/who I'm hearing).
Around me, besides Harish-Geeta, Sonam-Charu, were Sanjay Kapadia, his wife Swati, their daughters Radha and Dhara, Raju-Kannan and Priya. Then there was Nawang's quiet friend, Vikas Sutaria; Sonam's friends Deven-Dipti, Deepak-Swati, Samit-Ruchi, Geeta's schoolmates, and the eldest member of our clan, Siddhanand Bhauji, amazingly fit at 79 years.
Having lived with the Indian Air force, I couldn't help remember those in our squadron who had given their lives in the service of their country, Sukhram and Rajkumar and many, many others. If those invisible, anonymous men in uniform weren't doing their enormously tough job ceaselessly, excellently, we in Mumbai wouldn't be living in comfort. The links are long, complicated, but the end result is freedom for us civilians. We must always remember them. When we travel, when we shop, curse the government, read the newspaper, always. Not just those who've sacrificed their lives for us, but also those who escaped death but have been caged for the rest of their lives within a handicap. A healthy body, a tough mind, a skillful and trained human being made unproductive because of a bullet or a mine.
We ended with snacks and chitchat before we split and went our ways. One more event, one more memory.
I suggest that this park be on the 'must see' list of visitors to Mumbai. When we get friends, colleagues staying with us and we have to show them around, let's add this place to the Gateway, the Museums, Big Bazaar and others. It's a darn sight better than Inox, you'll agree, and a trip there would be a meaningful one.