Two Tributes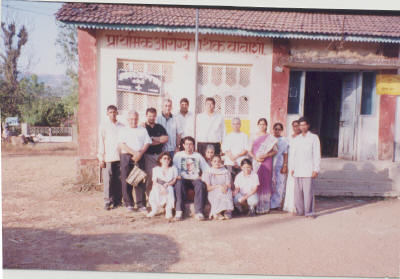 At the clinic of Dr. Mrinal Patnaik in Vavoshi. Mrinal is in the center with the photo of Lt. Nawang Kapadia
Two events stand out from various tributes paid to Lt. Nawang. First was the tribute by the simple village people of Vaoshi near Mumbai.
The Primary Health Centre (PHC) Vavoshi situated in Taluka Khalapur ,district Raigad near Mumbai, is in the charge of Dr. Mrinal Patnaik, who is a very close childhood friend of Lt. Nawang Kapadia. Lt. Kapadia had visited the PHC many times and had developed a large circle of friends and well-wishers in the village of Vavoshi. He had special affection towards the residents of Vavoshi, especially because of the presence of a large number of retired and serving army JCOs and NCOs. The love of people of Vavoshi was nowhere more evident then by the tributes paid by the residents of Vavoshi on hearing the news of the sad and untimely demise of the young Lieutenant. On the day of cremation of the Lieutenant in Mumbai, the residents of Vavoshi held a ceremony in the memory of Lt. Nawang Kapadia at the PHC and observed silence in the memory of the martyr. And now several trees have been planted in his memory.
Another event was a tribute from rather unlikely crowd. A large gathering of youngsters gathered in a large stadium at Andheri to listen and dance to Bollywood film tunes, lead by popular film stars. A song from the recent popular movie "Mission Kashmir" was to be performed. Suddenly the star picked up the mike and said that Mumbai had lost a brave soldier in Lt. Nawang Kapadia in Kashmir just a few days back. He narrated the events and asked the audience to get up and observe a two minute silence in Lt Nawang's memory. The so called "modern dance crazy generation", in thousands, stood in veneration to this sacrifice, in an amazing silence. As they danced to the tune many mentioned that the song had a different meaning to them then.